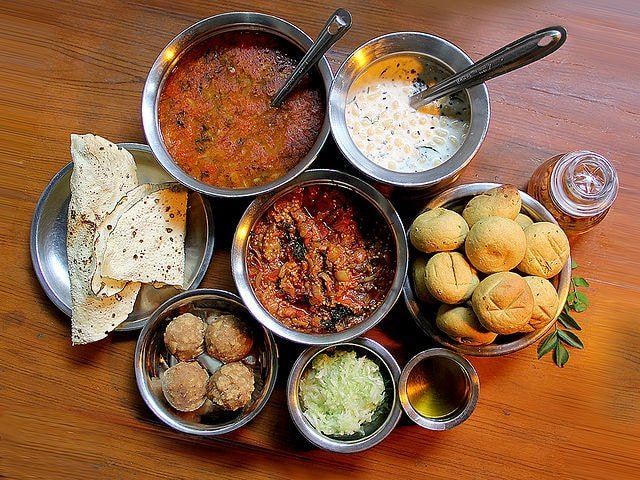 Top 10 Delicious Indian food with their Places
Indian food is primarily known for its spiciness and the unique taste of every dish. Indian dishes are good for its taste and also contains essential nutrients as well as. The spiciness with the unique taste of Indian foods makes it very special.
If you are a food lover then you must taste these Indian food at least once in whole life.
1. Rajasthan Ki Daal baati churma (Best Indian Food)
Fig: Daal Baati Churma
The most famous food of Rajasthan is Dall batti churma which has a very great combination of spiciness presented in dal, with sweetness of churma and the Batti which is made using the flour. It has a very rich amount of Ghee. It is filled with nutrients, carbohydrates and fat also. The Rajasthani thali is everyone's favorite in Rajasthan and is prepared with love. It is very hard to forget the taste of the Rajasthani thali and it can call you back to Rajasthan to taste it.
2. Mumbai ka Street Food
3. Kolkata Ki Sweets
4. Goa ka Goan Beer
5. Lucknow ke Royal Recipes
6. Delhi ke Paranthas
Fig: Paranthas of Delhi
As said, "Dilli hain Dilwalo ka Seher", you can get everything here. Chole Bhature holds a special place in the hearts of Delhiites but there are must visit places if you are big time foodie and they are – Karim's, Jama Masjid is best for non-veg food, Paranthe Wali Gali, Chandini Chawk where you get more than 100 variety of Paranthas, Sarvana Bhawan, Cannaut Place if you are South Indian food lover, Keventer's which offers the best shakes of Delhi and famous Momos of Lajpat Nagar. I bet you will never forget the taste and treatment of Delhi. You can also check out the Delicious Street Food of Delhi.
7. Uttarakhand
8. Gujarat ka khaman Dhokla
Fig: Khaman Dhokla
When someone calls out the name Gujarat one things come to mind which is khaman dhokla. Gujarat is a heaven for vegetarian foodies and one who eats the Gujarati food does not easily forget it. All the dishes of Gujarat are very traditional just like the peoples of Gujarat. All the Gujarati recipes consists of unique combination of sweet, sour as well as spicy taste.
9. Alwar ka mawa
10. Chennai ka Masala Dosa
Fig: Masala Dosa
Chennai follows traditional style of eating foods i.e. on banana leaves which increases the taste of the food. However, talking about the famous dish of Chennai is Masala Dosa which is the people's all-time favorite due to the spiciness and the unique taste. Other foods for which Chennai is famous are Kothu Parotta, Idli, Sambhar, Puttu, Appam, Idyappam, Murukku, and Dosa. All the food are rich in proteins. As it can be said the Chennai is a show- stopper for every foodie.
So all the foodies pack you bag and get ready for some Indian food trips across India.